Key findings from our Staff Salaries & Benefits Research Report* shows the demand for quality staff is currently at an all-time high and it is clear that the market won't be cooling anytime soon. Two thirds (68%) of advice firms surveyed reported that they are looking to add new members to their team during 2023, with competition greatest in city areas, where 72% of practices will be actively recruiting. The most in-demand roles being those in client services.
Given the number of enquiries we've fielded since the Report was published, we thought we'd delve a little deeper into the topic to understand what it's going to take for advice firms to attract and retain quality employees in 2023.
How will advice firms find new staff?
While most firms intend to leverage traditional recruitment channels, there are some interesting differences based on geographic location, as the chart below shows.
61% of city-based practices intend to use a recruitment firm/head-hunter to find their next appointment. Perhaps a direct reflection of the decreased availability of such services in regional areas, this figure drops to 25% for non-metropolitan based businesses.
Two thirds (67%) of regional firms intend to use an online job website such as Seek, Indeed, etc.
Interestingly, 50% of regional firms state they will be looking to recruit directly from a local university, college or school, this figure is well above the 31% of city-based businesses who will be looking to do the same.
Offering internships or short-term paid projects to university students can be an effective method of reaching new candidates and it allows both employer and potential employee to assess the "fit" before committing to a full-time hire.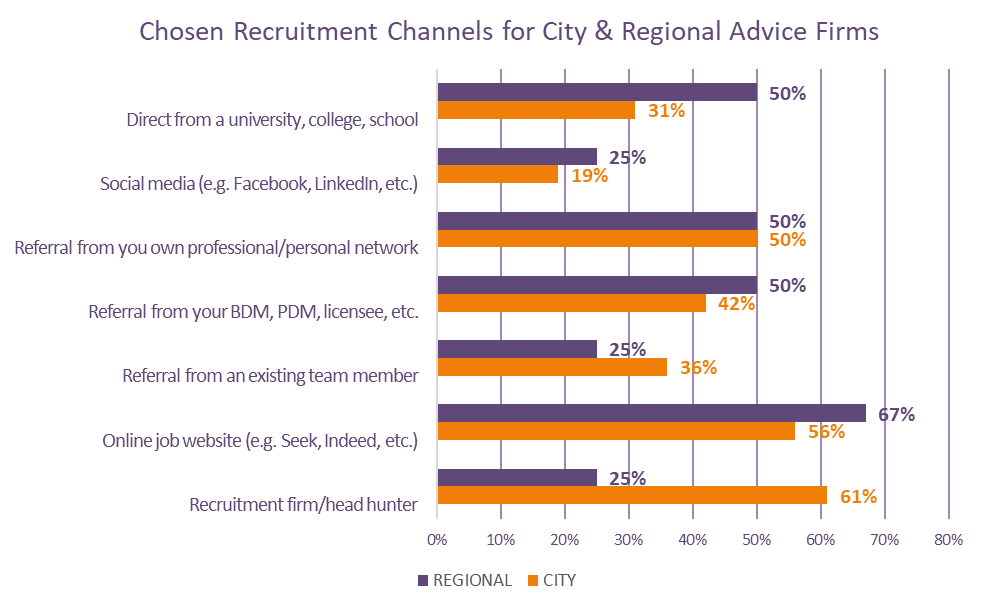 Online content will likely be the first impression for potential employees
There will be one consistent response from virtually every person looking to join a new employer; candidates will invariably 'google' the firm and their potential new boss before any in-person contact is made. Any business looking to hire new staff will need to consider their website and social media profiles in the context of either encouraging or discouraging new candidates.
Website content should, ideally, be kept up-to-date, informative and easy to navigate, as well as clearly articulate the practice's value propositions for both clients and staff. Content can include commitments to local communities or charity organisations and any benefits for staff i.e. paid time-off to work for charity events etc.
Firms might consider creating a detailed "Careers" webpage which includes open positions, results of staff satisfaction surveys and, currently very relevant, a description of their 'Working From Home' policy.
The ability to work remotely has transformed mindsets and expectations for many workers and requires employers to continue to be flexible, adaptable and innovative. It's clear that the optimal work environment of the future will need to incorporate a hybrid location model.
It is very pleasing to see that 92% of the advice practices who participated in the survey offer their team the opportunity to work remotely. While this figure jumps to 95% for rural/regionally based firms, smaller advice firms (those with three or fewer employees) are less likely to offer staff the option to work from home or flexible working hours.
Why should staff work for you?
This is a question for business owners to ask and answer on a regular basis. Employers, at the very least, need to stay up to speed with the latest remuneration trends, particularly the market rate for open positions they are looking to fill. It's relatively easy to touch base with the market through independent research and published reports.
Even when not hiring, staying aware of the latest trends and how competitive (or not) a business is can be essential for staff retention. Not staying up-to-date with market trends for current staff roles delivers inherent risk, especially if newer staff are seen to be treated differently (better).
While offering a competitive financial package to employees and potential new team members is a great start, this alone may not be enough to attract and retain the talent needed to build and grow the successful advisory businesses of the future.
Survey respondents nominated quite a range of 'value adds' with the most popular being;
Flexible working hours
Paid membership subscriptions (FPA/AFA, gym, theatre)
Education support (funding, paid time off for study/exams, success bonus)
Opportunity for equity
Paid maternity/paternity leave
Two points to make here – firstly, these style of benefits are far more frequently offered to advisers than administrative staff. Perhaps as practices compete to hire quality client service and administrative staff during the year ahead, they could consider including these types of benefits for non-adviser roles too?
Secondly, through our consulting work we regularly find that many team members are simply unaware of the total value of their package, including the ancillaries. So, its our recommendation to these employers that they positively reinforce, during the performance/review cycle, the totality of the package (attributing, if possible, a monetary value to the ancillary benefits offered), not just the headline salary component.
Enhancing the Employee Value Proposition – a few simple steps
Notwithstanding the nuances of each individual business, there are a few of simple steps for business owners to consider, to enhance their Employee Value Proposition and help to attract, retain and develop employees;
1.     Show respect for the contribution of each staff member;
Provide staff with up-to-date position descriptions. At our last industry analysis almost half (48%) of practices reported that they did not have up-to-date job descriptions for all staff.**
Deliver performance appraisals, empathically.
Hold regular, meaningful all-team meetings and communicate the business' progress to plan. Staff members are more likely to be engaged with the business if they know not only their individual goals, but also the longer-term plan and vision for the business.
Be very aware of how satisfied (or not) staff are. Staff perception is the boss' reality. Be prepared to seek staff feedback and accept it, respond and take any actions as may be needed.
2.     Ensure remuneration is competitive in the marketplace and, while the headline component will be monetary, it is often ancillary benefits that will make the all-important difference. Through our consulting work we regularly find team members are simply unaware of the total value of their salary package. So, it's our recommendation that employers positively reinforce the totality of any salary package, including the ancillaries, attributing if possible a monetary value to the ancillary benefits offered.
3.       Proactively promote and market your Employee Value Proposition on your website and through your network.
Salaries as investment, not an expense
Remuneration is the biggest outlay for most practices. On average, salaries make up just over 60% of total expenses.* However, with the right employees and everything they can contribute to a business, salaries should not be viewed as an expense but rather an investment, against which the owner should determine an acceptable ROI.
I hope some of the above information will help you to achieve your 'employee ROI'.
Terry Bell
Business Health Pty Ltd